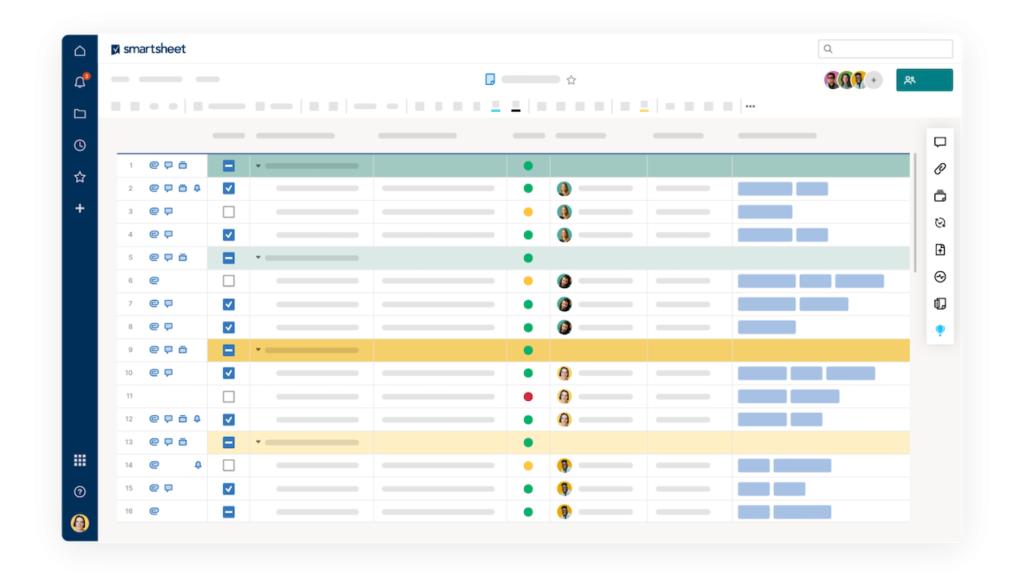 Small and midsize companies often don't have a dedicated project management function. This can cause project delays and poor decision making. There are software applications available that can facilitate good project and portfolio management.
Product development teams in small and midsize companies more often than not do not have access to a dedicated project management function. In many larger firms, project managers are key team members who manage the project plan and timeline, facilitate team meetings, and keep team members accountable for the completion of the tasks assigned to them.
If there are no dedicated project managers, projects are often led and managed by marketing and/or R&D. I have seen on many occasions that this doesn't work as well as it could:
It's common that team meetings are technical status updates without much attention given to the project plan. Often, this leads to poor decision making, because the project timeline is ignored.
Due to risk aversion, project teams end up working on low value, low risk projects. Decision makers do not have a clear view of the value and risk of the project portfolio and tend to select safe projects.
I have also seen failing projects abandoned only after millions of dollars and significant personnel time were spent, because the criteria at development milestones were flexible and difficult decisions to stop or hold projects were not made.
Projects are run without leveraging the available digital tools, because adequate training is not provided. Training is usually available on demand, but busy team members don't ask for training and ignore the new tools, because the benefits are not clear.
In contrast, good project management will avoid these problems. It will promote:
Efficient allocation of resources (money and people)
Timely launch of new products and processes
Effective communication of project status and value to stakeholders
Building on past successes because expertise is preserved.
In the B2B chemicals and materials industry, there may not be an immediate penalty for poor timeline management, because customers move slowly. In B2C consumer products companies, projects and timelines must be managed closely, because there is only a narrow window for product launch. Launch timing for B2C is dictated by the season and by mass retailers.
Digital tools for project management
Fortunately, digital tools are available for many stages of the project lifecycle. These can make managing project timelines and resources much easier. To use such tools effectively, the product development process must be well defined and the requirements at key milestones should be clear. And companies need to give adequate attention to thorough worker training in using the tools.
There is a broad range of product development activities and tasks where project and portfolio management tools can help:
Evaluating and screening project ideas and project tasks after ideation
Building project plans and timelines
Sharing and communicating project data
Modeling and forecasting of financial metrics, such as sales and costs
Risk management and mitigation
Stage gate management
Project portfolio review for stakeholders
Time management of human and capital resources
Interfacing with other tools such as Tableau and Salesforce
Documentation and archiving of project data.
Organizations that don't use available digital tools often resort to managing these processes using Microsoft Office applications, such as Excel and Powerpoint. These are powerful but lacking in several important areas. First of all, they rely on individual documents that are not organized in any way other than in folders on local hard drives or in the cloud. Because of their segregated nature, document repositories are often not searchable, so that it's very hard to find a document if one forgets the file name or location.
Also, there may be several versions of the same document. How can you tell which one is the most recent or the most complete version? There is no single source of truth which causes loss of confidence in the reliability of data. Integration between the different Office applications is clunky and time consuming. You get lost in endless reformatting.
Finally, it is very hard to set up project portfolio summaries, dashboards, and portals. With individual, disconnected files this requires a lot of manual work collecting and aggregating data. Not having portfolio data makes it hard to set up scorecards, metrics, and key performance indicators that would allow for faster decision making.
The Office applications have one big advantage, which is that almost everyone has a license and knows how to use them. Most project team members are familiar with the functions needed to complete tasks and manage projects in Office.
Complementing Office, project and portfolio management applications can facilitate:
Project planning and management
Timesheet management
Documentation and archiving
Stage gate processes
Dashboards and search functionality
Collaboration within and outside of the team
Customer support/learning
They are generally cost effective and interface well with other commonly used applications. Many companies use Microsoft Office along with customer relationship management software and business intelligence applications. PPM applications are often able to tap data provided by those tools and feed reports and dashboards back to those systems.
Recommended PPM apps for small and midsize organizations
During my consulting work, I have become familiar with a few leading PPM tools. Each has pros and cons.
Smartsheet is built on spreadsheets that look like a cross between Excel and Microsoft Project. It's very easy to build project plans, reports, and dashboards. The portfolio management functions are strong and customizable. Smartsheet has outstanding collaboration functions and can also function as a document archive. The data analysis and charting functions are probably the strongest among its competitors. However, Smartsheet sometimes feels like a spreadsheet with many add-ons that are not very intuitive. The learning curve is rather steep.
Monday.com is another leading option for PPM. It is much less expensive than Smartsheet but the functionality is not comparable. You don't get the familiar spreadsheet interface and it's not straightforward to set up a project with sales and volume forecasts. Monday.com is mainly designed for short term projects such as those in IT that don't have long term financial returns. The focus of Monday.com is on resource management, including cost and people management.
Sciforma is more comparable to Smartsheet in that it allows management of stage gate (or phase gate) processes as well as financial forecasting and risk management. It offers portfolio-level dashboards and project planning tools. The cost is comparable to Smartsheet and it offers broadly similar capabilities. Its collaboration functions and customization are not as good. Sciforma is oriented towards large and midsize companies and does not offer mobile access.
Planisware offers a comprehensive solution to PPM and also product and project management. It incorporates the stage gate process and has good collaboration options. Similar to Smartsheet, it can replace previous tools such as Excel and Project. Also similar is that users can receive a certification by completing training in the tool. The cost is comparable, but it is targeted to large companies. It doesn't offer a free trial, unlike the others.
My consulting client opted to install Smartsheet and rolled it out to the innovation team and later to the entire company. There was some resistance to the new tool, but the benefits became clear over time. Smartsheet offered training but the tool was only really accepted after we developed customized training for the processes specific to the company. We stopped using the previous software ap zplications which were Microsoft Excel, PowerPoint, and a custom-built project database. With Smartsheet, I could set up project and portfolio dashboards that showed leadership the exact metrics that they needed for the business. It's too soon to tell what the impact will be. But it's already clear that projects are documented better, that stage gate meetings are more organized, and that up to date project status is visible at all times. A clear win for the client.
If you are interested in a conversation about your project and portfolio management needs, please contact us via email or by setting up a phone call at measuredinnovation.com.